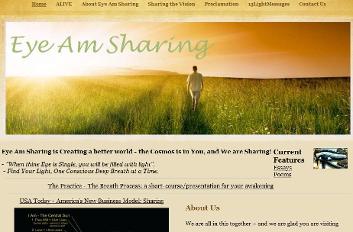 Eye Am Sharing
is the site that will be evolving very soon into what Dr. Skadberg calls a "collaborative network". The result of many years of work and study, including his Ph.D. dissertation, there will soon be a realization in the masses that hiding what we have to Share is ludicrous.
It is our belief that hiding what and who we have had in our life, and what we have accomplished is like lighting a candle and them putting under a tin can.
Eye Am Sharing will provide the place where people can Share Abundantly, unashamedly and passionately. And where the realization of the full power of creativity and cooperation can be realized.
Copyright
©

2011-22 Solomon Source & Vision Excelerator